Felicitation of Keynote Speaker "Dr Charanjit Singh Atwal" (Former Deputy Speaker, Lok Sabha & Ex-Speaker, Punjab Legislative Assembly)
New Delhi (India), April 20: After a trial run in February 2023 at one of Delhi University colleges, Vii MEDIA's feature event at Hotel The Lalit IDEAS FORUM & HONOURING THE GEMS, turned out to be a big draw, a literal congregation attracting who's who from a wide spectrum on Sunday.
Current and former representatives of the Govt, industry captains, bankers, political leaders, educational dons, Olympians, journalists, PR professionals, film makers and many others present in the crowded Ball Room twice got on to their feet for standing ovation, first when Political Editor of Hindustan Times Vinod Sharma delivered the Vinod Dua Memorial Lecture and again when a spell-binding 16-minute AV presentation on legendary Hindi commentator Jasdev Singh was made. Many had goosebumps on the occasions. A video message from Mallika Dua, daughter of Vinod Dua was also played.
A book by Jasdev Singh, On the Wings of Radio Waves' translated by his son Er Gurdev Singh Soin was on display! For Gurdev, the long wait was probably worth.
The occasion was used to confer Lifetime Achievement Awards on hockey great centre forward of three Olympics Harbinder Singh Chimni and Dental Surgeon to President and Prime Minister of India, Dr Hansraj Prem Sachdev. M.P Singh, former India penalty-corner specialist and Dr Raj Kumar Sharma, Director Sports, Guru Kashi University too were provided special honours!
The program began with Dr Veena Bhalla, former Joint Secy, AIU chairing a very lively session on Education – Transforming The Nation, wherein Dr Ajay Rana (DG, Amity University and former VC of Subharti University, Dr Diya Dutt (AIU) and Mr Jasbir Singh from Anaad Consultants Pvt. Ltd., all making a mark with their discussions on NEP 2020 and entry of foreign University campuses in India. The discussion was moderated by Career Coach & Analyst Roohi Dhingra.
Dr Charanjit Singh Atwal, former Dy Speaker Lok Sabha and Ex-Speaker Punjab Assembly, in his keynote address appealed to the Govt and the Prime Minister to have one course curriculum to all schools in the country. "We all need a level playing field, he said addressing a capacity crowd. He was felicitated by Mr Amardeep Singh Hari, a corporate honcho from Ghana and Mr Raj Bhatia, CMD Bony Polymers. Mr Hari was later part of a well-crafted debate coordinated by RJ Neeti on Infrastructure – Bridging the Rural Gap with Mr Harish Sharma, Dy Director, DDA on the firing line.
On a choco block schedule two more panel discussions were there with Dr Harpreet A De Singh, among country's first women pilots and a senior functionary of Air India, Ms Anjali Dada from Soch Autism Society, Jalandhar, Sonica Aron from Marching Sheep and Astrologer, Numerologist and Vastu Expert Preetty Sharmaa taking part on women affairs.
Mandeep Kaur Tangra held the spotlight on in discussion for Technology by announcing that she had given employment to 130 people in Tangra village near Beas in Amritsar. Suresh Mansharamani Founder of Tajurba & Vice President of Equitas Bank Sunmeet Singh also thrilled the audience with the strong questions from CEO Bhalinder Singh. Raj Bhatia, who runs 13 units in four States, mostly in suburban areas, and Executive Coach & Management Consultant Harwinder Singh Kamra, the other two panellists, wanted it to be replicated. Gurmeet Singh Kular President, FICO & CMD, Kular International with Praven Sharma Founder & Director, Djewels also mark their presence in different panels.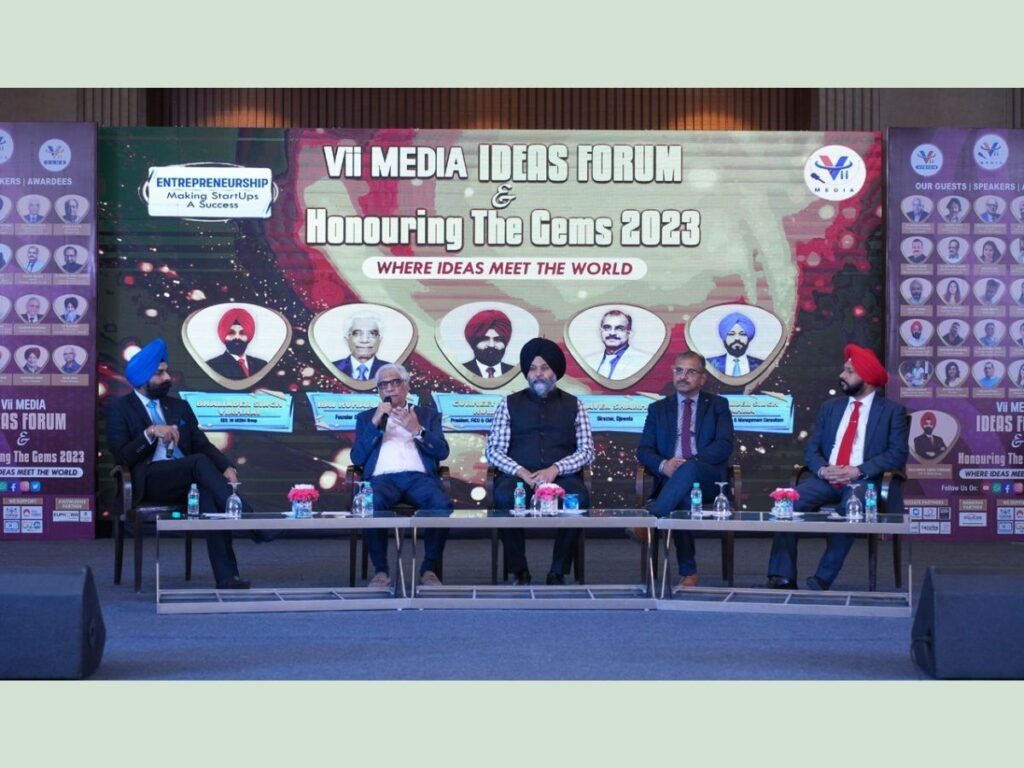 Also, among those who were honoured for their yeoman services in various areas were Prof (Dr) Ranbir Singh (PR and Tourism Development), Dr Namarta Joshi (film studies and research on women Affairs), Nitin Goyal (Astro and lifestyle photography), Ritu Mehta (Teaching of English to rural students and conducting waste to wonder exhibitions). RJ Rahul Makin too was felicitated. Divyanshu Malhotra bagged a special prize as young filmmaker and so did Sonu Singh for carrying on sports with his job. They received it from Harbinder Singh and filmmaker Eddy Singh.
Dr Vipul Indora presented a crisp talk on how to cut down on medicines and lead a healthy life. Vii MEDIA CEO Bhalinder Singh Virmani held the forte alongside Manpreet Kaur and Neetu right through. Volunteer support came from Connecting Lives, founded by Archna Tiwari. As always Kuljeet Singh, the SGTB Khalsa College don, Prof Vikram Dutt, Sapna Mittal were there to provide support. So was R Giriraj and Gurbakhshish at Harvinder Singh Wadhwa.
Established in the Year 2020, Vii MEDIA is a multi-focus and multi-lingual online channel covering a range of facets such as current affairs, culture, sports, religious, corporate and other entertainment programmes largely focusing on the NRI communities in USA and Canada and the channels aims to soon expand its outreach in other parts of the world including Australia and the UK. Unlike other media channels in the competitive race, Vii MEDIA intends to be a neutral platform which aims to showcase programmes with relevant content and freedom of expression with the objective to enrich viewers' experience with factual knowledge and entertainment. Vii MEDIA has made its mark in the last three years with a triumphant and well-adapted conduct of the International Virtual Summit 2020, Global Summit 2.0 & 3.0 Besides, it has to credit an NRI Conclave, IDEAS Forum, close to 100 episodes of High Flyers and The Big Point across international frontiers and programmes like Coffee Table, Peengh Sabyachar Di, Direct Sawaal and Famous Chehre. Vii MEDIA also launched online magazine "Vii VISION" which has crossed 16 successful editions. In the age of digital boom, Vii MEDIA, a multi-lingual platform, is touching new heights by bringing in creative and imaginative current affairs programmes and Special Shows with NRIs.
With over 22 years in the media industry, Bhalinder Singh Virmani is the CEO of Vii MEDIA. He started his career in the year 2000 as a news anchor with Punjab Today. Subsequently, he became the lead news anchor in various other news channels of India including Zee News Punjabi and PTC News. He is best recognized for his appeal to connect directly with his audiences. Besides primetime news programmes, Bhalinder has conducted exclusive interviews and debates on various topics, both nationally and internationally. During his stint at PTC News, he was posted in the USA for 3 years as the Executive Producer for North America Affairs. This afforded him the opportunity to lead the special PTC coverage of PM Modi's high-level visit to the country in 2014. Further, amongst his innumerable news reports, are the well-coordinated coverage for the State and Central elections not only in India but for USA and Canada as well.
If you have any objection to this press release content, kindly contact pr.error.rectification@gmail.com to notify us. We will respond and rectify the situation in the next 24 hours.