Surat (Gujarat) [India], April 26: The Gurukul will be run entirely by women: teachers, principals, administrative and academic staff in three phases; about 2500 girls will get advanced facilities of study and hostel.
Usually, we have seen that only boys study in Swaminarayan Gurukul, but now for the first time in the history of the country, a Gurukul for girls will be built on the soil of Surat. At a distance of two km from the Outer Ring Road, at Vadod village in Olpad taluka of Surat district, a special Gurukul for girls will be realized in such a way that up to 2500 girls can study in three phases through Swaminarayan Sampradaya. In which hostel and food will be provided with advanced facilities. Next date, On 22nd April at 5.00 pm, Bhumipujan of the daughters' Gurukul will be performed by Chief Minister Bhupendra Patel.
This Gurukul, which will be operational from June 2024, will provide education in accordance with the new education policy as well as culturally relevant to Indian culture. Std. From 6th to 12th, girls are provided with food and hostel accommodation facilities and school along with studies. Updown for daughters from std 1 to 5 Arrangement will be made. Regardless of religion or caste, any parents from the country and abroad, who want to protect their child's behaviours, can get their daughters admitted to Kanya Gurukul.
Dheerajlal Kotdiya, chairman of Sahajanand Technology, a prominent businessman from Surat, has donated the land to materialize the idea of a unique Gurukul for girls, which will be built at an estimated cost of Rs.120 to 150cr. Also among the major donors is Dharmanandan Diamond- Lalji Patel of Surat and Rakesh Dudhat of Srihari Group operating in Surat, Africa. All three donors are old students of Swaminarayan Gurukul-Rajkot.
In the first phase, about 600 girls will be provided accommodation and study in this Gurukul. In the second phase, 1200 more and in the third phase, a total of 2000 to 2500 daughters will be provided with the best and most advanced facilities for study and accommodation. Management of this Gurukul All the staff, including cleaning, peons, clerks, teachers, principal, and admin, will be women only. Even in the hostel, women will be responsible for the management, prayer, satsang, religious rituals etc. Rakesh Dudhat said, giving details that even male guardians will not be allowed on the campus.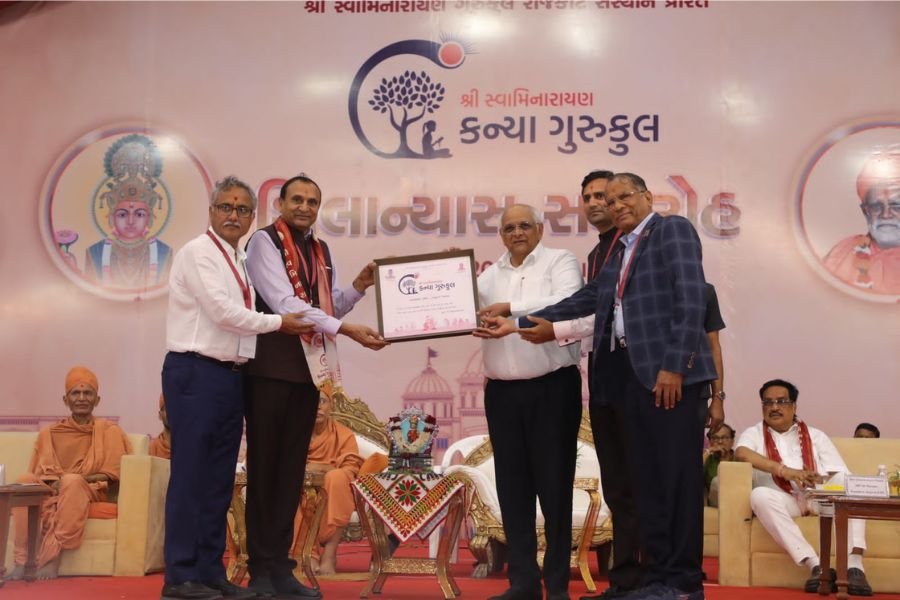 On this occasion, Prabhu Swami said that 170 Gurukuls of Swaminarayan Sampradaya are functioning in the country, including Gujarat, in which more than two lakh students are receiving rites in schools and hostels. All these gurukuls are for kumars (boys), while for the first time in the country, Surat is going to have a gurukul for girls. In addition, Shri Prabhu Swami said that, in the year 1948, Shastriji Maharaj in Rajkot
Dharmajivandasji Swami established the first Gurukul in the sect. Even today, this Swaminarayan Kanya Gurukul, managed by the same Rajkot Swaminarayan Gurukul Sanstha, is being established for the first time in the sect by the Rajkot Gurukul itself after 75 years. The Gurukul also welcomes donors who wish to use their own Shubha Lakshmi Matrashakti to manifest their work. Women from donor families can become trustees of Kanya Gurukul by paying Rs.51 lakh. One can also take advantage of becoming a donor of a room for Rs.5 lakh.
Currently, 18 vigha land acquisition work has been completed. There will be a total construction of six lakh square feet. 3.50 lakh square feet will be constructed in the first phase. Date On the 22nd, 10,000 plus women, men, and guests, on the bank opposite Tapi River behind Kiran Medical College in Vadod village.
The Chief Minister will lay the foundation stone of this project in the presence of dignitaries. Along with the special Chief Minister, Sadguruvarya Gurumaharaj Devkrishnadasji Swami of Swaminarayan Gurukul-Rajkot, Mahant Devprasadasji Swami, Dharmavallabhadasji Swami of Swaminarayan Gurukul-Surat etc., saints and donors will join the Bhumi Pujan ceremony.
In June-2024, the first phase of construction will be completed, and academic classes will begin. Apart from this, in Rajkot too, near Ram Mandir on Rajkot Morbi Road, the work of constructing a Gurukul for girls at Ratanpar village is accelerating.
If you have any objection to this press release content, kindly contact pr.error.rectification[at]gmail.com to notify us. We will respond and rectify the situation in the next 24 hours.